Testing if you have a water leak
---
We want to do everything we can to encourage our customers to detect and repair leaks as quickly as possible. This helps us to reduce leakage and for you to potentially save money. Follow a handful of easy steps to see if you have a leak within your property boundary.

Leakage Responsibility
We own the pipes that run up to the street boundary and we will always repair them as quickly as possible.
Between the street boundary and your internal stop tap is the private supply pipe. Although the pipe belongs to the property owner we will offer a free repair where possible.
All internal pipework and fittings inside the property are the owner's responsibility to repair.
If you notice a leak or think you have one near your property, please contact us on 0800 052 0130 (24 hours a day, 7 days a week).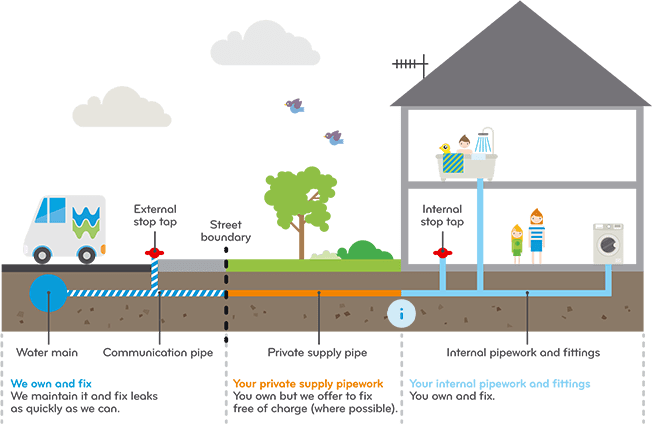 Sometimes a private water supply pipe can provide water to several properties, if we find your water pipe is shared we'll discuss all options on how to repair it with you when we visit. You may be interested in having your own separate water pipe installed, which we would always recommend.
A private supply pipe can be quite long and cross someone else's property boundary. If your supply pipe runs across your neighbours' boundaries then you are also responsible for this part of the pipe.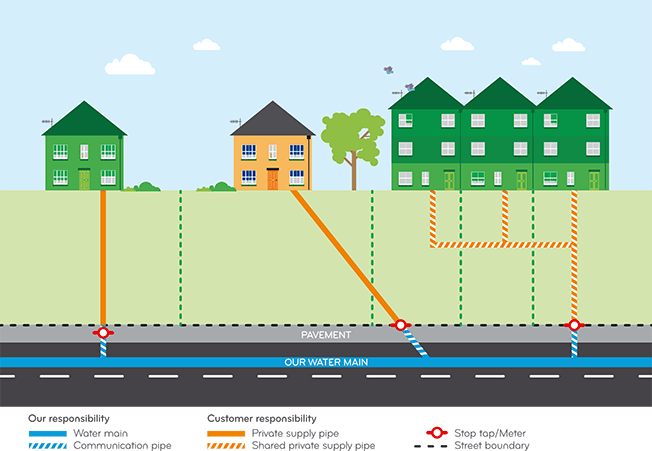 What to do if you have a private leak within your boundary
If you have a leak within your property boundary, or you're not sure who owns what, our Private Leakage booklet provides information on what you need to do, as well as details on our Free Leak Repair Scheme.
Download now