About your water meter
---
All the information you need if you have a water meter installed at your property.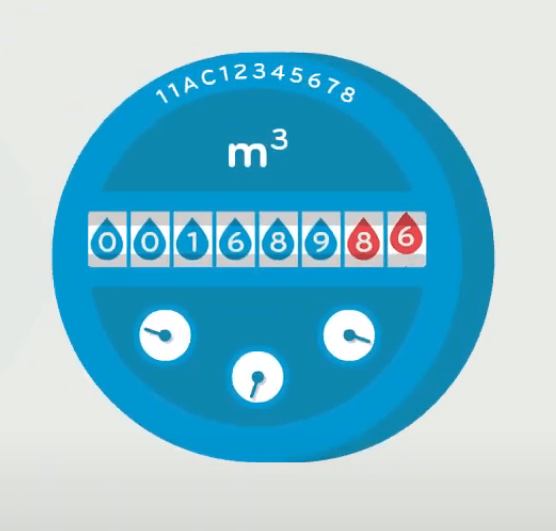 Our
measured charges
If your property has a water meter, you'll get a measured bill for the water you have used over the billing period. Here, we break down the bill so you know what you're being charged for, and what you need to do.
Learn more
What you need to know
You will receive a bill every six months when we read the meters in your area. We'll aim to bill on an actual reading but if we are unable to read the meter, we'll send an estimated bill.

Your bill has to be paid in 14 days of receipt unless you have a Direct Debit or payment plan in place. Direct Debit is the easiest way to pay as you can spread the cost over a year, and we'll take the payments automatically. For more information, take a look at our Direct Debit page.

If you have a payment plan in place but fail to keep to the arrangement, the full outstanding balance will be payable.
If you receive an estimated bill, you have two options:
Option 1 - You may take an actual reading (if it's safe to do so). Send us your reading using our submit a meter reading form. We will then send you an amended bill.
Or
Option 2 - Our estimating program is very accurate. You can just pay your estimated bill as normal. We'll aim to read the meter in the next six months.
There are a number of reasons that could cause your bill to be higher than you expect. We've all been spending more time at home recently, either working from home, staycations or maybe doing that DIY that's been on your to-do list for a while! Being at home more will lead to an increased water consumption, through more toilet flushes, more showers or baths, or even more cups of tea, and if you're on a meter it's easy to forget that small increases here and there may lead to a larger bill further down the line - as you're only billed for the water you use.
Things to consider if your bill has increased and you have a water meter
1. A previously estimated read
If we had to estimate a previous reading and it was too low, your latest bill might be higher to include the extra water you have used.

2. A longer billing period
Your latest bill could be for a longer period than your previous bill. The longer the bill period, the more water you will use. For example, your first bill could be for 150 days and 26m3, and your second bill be for 193 days and 33m3.

3. Water intensive activities
Some tasks and chores around the house can use a lot of water. For example, renovation or decorating work which means you have used more water than usual, or using water during activities to keep us busy, such as ponds, hot tubs, paddling pools or tending to your garden.

4. A change in the number of people
If the number of people living at the property has increased between your bills, you may be using more water. This could be changes like having a baby, visitors or guests staying (although maybe not during the pandemic), or even others moving back in to your home.
If we need to change the meter for any reason, you will receive a bill between your six monthly bills.
If you are the account holder who requested the water meter, you have two years in which you can request to have the meter removed. Your charges will then revert back to being unmeasured charges. If your property already had a water meter installed before it was purchased or rented then the water meter cannot be removed.
How to read your water meter
Regularly reading your meter lets you keep an eye on how much water you're using and helps us to provide accurate bills, just please make sure it's safe for you to read before you do.
Here are some tips on how to read the meter:
Look at the meter location and serial number on your water bill
Lift the metal lid on the water meter chamber
If there is a polystyrene frost cover, remove this
Some of our meters have a lid; if there is one, open it so you can see the meter face
Check the serial number on your bill matches the number found on top of the meter
Write down the white on black or black on white digits (we don't need the red numbers)
Let us know your reading online using our secure submit a meter reading form.
Where is the meter located?
You will normally find the meter in the ground at the front of the property, at the property boundary or in the pavement. In rural areas, the meter may be some distance from the property. If you're not sure where the meter is, your bill gives a brief description of the meter location.
How do you clear condensation on the meter?
Sometimes, if it's been raining our meters, get condensation on the glass and the digits aren't visible. Here's how you can clear the condensation so you can take your reading.
If the meter has a magnet:
Place a metal object over the magnet
Use the metal object to move the magnet back and forth over the digits
When you can see the digits fully, move the magnet out of the way and read the meter.
If the meter has a clear plastic wiper blade:
Move the wiper blade back and forth over the digits
When you can see the digits fully, move the wiper blade above the digits so you can read the meter.
When we'll read your meter
We try to read the meter every six months but we know some customers with meters inside their house don't want to be disturbed. In these cases, we'll accept customer reads but once every two years we'll need to take our own reading. You can let us know your reading online using our secure submit a meter reading form.