Drainage and Wastewater
Management Plan
---
The DWMP is a shared vision for the future of environmental water quality and the management of drainage and wastewater. Ultimately, it is a plan to achieve the best outcome for the environment we operate in and for the end user of these systems – our customers.
Our customers are our priority. Your voice drives our DWMP process and it is vital you are involved in its development to ensure we create a long-term plan that benefits everyone, including the environment. We welcome your feedback, so if you have any comments, enquiries and thoughts on the DWMP please email us at: DWMP@dwrcymru.com.
We are currently developing the first version of the DWMP, which will go out to public consultation in 2022. It is a customer-driven plan that will focus on tackling the future challenges of population growth, urban creep and climate change on our drainage and wastewater systems from 2025-2050.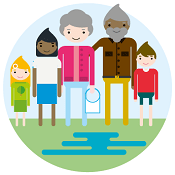 Population Growth
New housing developments
Brownfield developments (renewing previously developed land)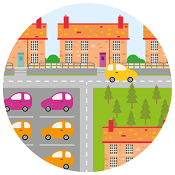 Urban Creep
Reduction in green spaces (e.g. parks, grass areas)
Paving of driveways and gardens.
Building property extensions (e.g. conservatories)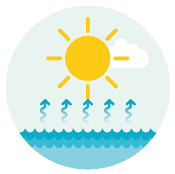 Climate Change
Increased storm intensity and frequency
Longer dry periods
Rising sea levels
If we don't act now to mitigate these challenges, the future implications could be: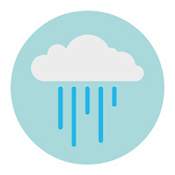 Increasing storm intensity and frequency
Increased storm intensity and frequency will put additional pressure on the storm tanks, which will remain fuller for longer and will overflow into the environment for longer periods of time.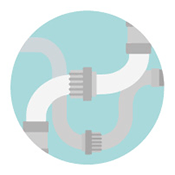 Network of pipes
The network of pipes won't be large enough to contain all the wastewater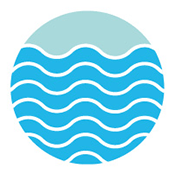 Storm water storage
(which are pressure relief valves, to manage storm water in the network) will fill up more quickly and will not be able to transfer back into the network of pipes after the storm, in time for the next storm and will overflow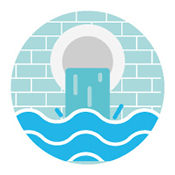 Overflows into rivers and streams
In exceptional extreme storms, the capacity of sewers, overflows and storm tanks will be exceeded rapidly - leading to overflows into rivers and streams or customers' homes as sewage escapes from the network in an uncontrolled fashion
More information about the DWMP can be found in the customer overview of our strategic context 'Introduction to the Drainage and Wastewater Management Plan' which has been created for our customers as a summary of what will be included in the DWMP and why and how we are creating it.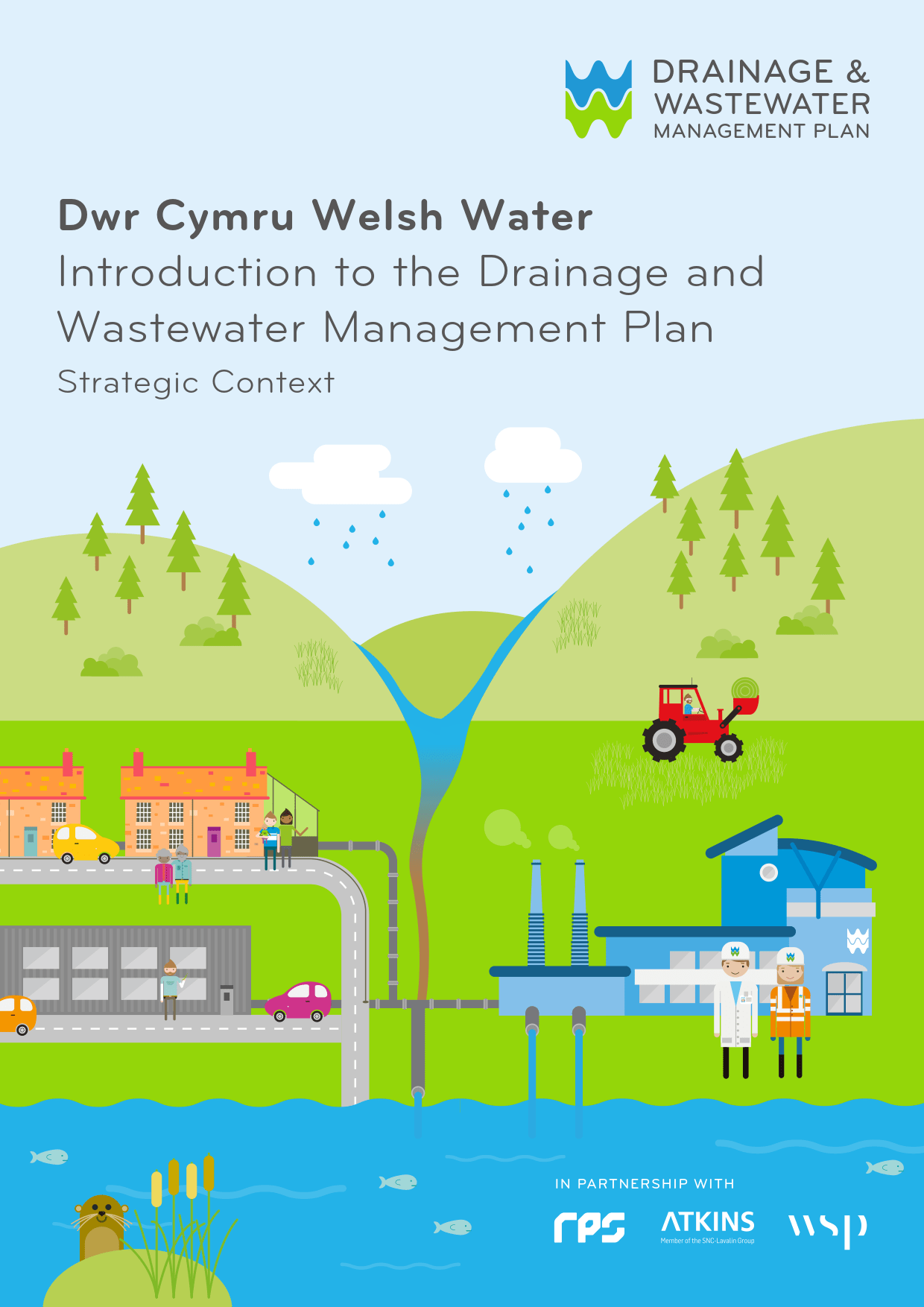 Our strategic context documents can be downloaded below
, 0B
We are committed to developing the DWMP: it will help us work towards our Welsh Water 2050 vision to earn the trust of our customers every day and achieve our mission of becoming a truly world-class, resilient and sustainable service for the benefit of future generations.
Drainage and Wastewater Management Plans are being produced industry-wide in England and Wales and are based on the framework developed on behalf of Water UK – the Water UK DWMP
Working together towards a common goal
The full potential of our DWMP in delivering the robust and resilient drainage and wastewater service we aspire towards will only be realised by working closely together with all stakeholders at both strategic and local levels.
We are working with customers, industry regulators, local planning authorities, lead local flood authorities and environment groups to discuss the initial stages of the DWMP, gather information and establish foundations for partnership working.
We have presented our joint working approach to key stakeholders, which has received approval from the Welsh Government, and continue to work with customers through research groups and workshops to determine their awareness, expectations and support of the DWMP.
Through our engagement with these stakeholders to date, we have been asked to consider various frameworks, guidelines, principles and plans as part of the development of the DWMP. We have captured these requests and we will continue to record them as we engage with more stakeholders at varying levels. We will outline how we have taken each recommendation into consideration and provide more details of the outcomes of our engagement with stakeholders as the DWMP process progresses.
If you feel you are able to collaborate and contribute towards our DWMP please contact us at DWMP@dwrcymru.com to arrange a meeting.
Areas for collaboration can range from opportunities to raise awareness with shared customers and stakeholders to the introduction of sustainable drainage or natural flood management levels and implementation of measures that improve the quality of our rivers and coastal waters.
What planning areas will the DWMP cover?
Level 1 - Company Operational Level - An operational area which consolidates the more localised mapping in levels 2 and 3 in a published strategic report for our whole operational area. Our high-level plan will show how we address the challenges we have identified and how we will achieve our long-term wastewater and drainage aims.
Level 2 - Strategic Planning Unit - A subdivision of the company operational area. Originally set at the River Basin Management District Catchment (RBMD) level and revised to take into account drainage from sewers. This is where we combine the significant risks identified and consult with stakeholders where collaborative opportunities lie to achieve greater benefits for all.
Level 3 - Tactical Planning Unit - A consolidation of WwTW and its catchments joined together by its river drainage system. At this level we undertake a detailed assessment of risks and opportunities. It sets out a long-term plan of interventions needed to meet the needs of the catchment, the communities that live there and our Company's strategic plans.
Stages to creating a DWMP
The DWMP Customer Research Journey
Details of the six national planning objectives and the DWMP action plan can be found in the Strategic Context document 'Introduction to the Drainage and Wastewater Management Plan' here.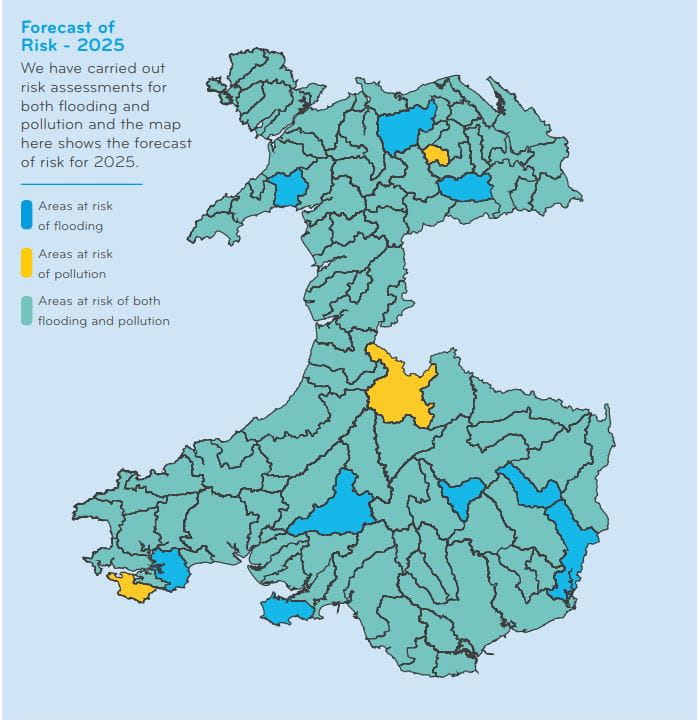 Where we want to work with you
PDF, 2.7MB
To find out more about collaborative working please download below our 'Where we want to work with you' document, which details our vision for future joint working.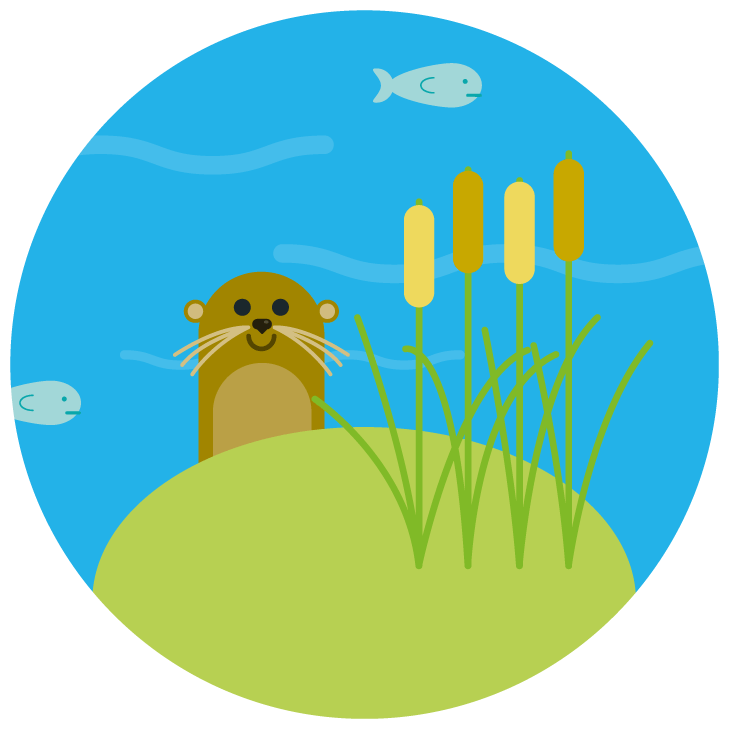 We are undertaking a Strategic Environmental Assessment (SEA) and Habitats Regulations Assessment (HRA). We are consulting with our statutory consultees between 22 October and 26 November. Please contact us at DWMP@dwrcymru.com if you would like further information.
How to get in touch
We want to hear from you! Please contact us at
DWMP@dwrcymru.com
if you would like more information or if you would like to arrange a virtual meeting.