Dealing with water leaks
---
All the information you need for finding and managing leaks and bursts.
Why do leaks happen?
Sometimes leaks occur and this can be due to the age of the pipe, a weakness in the pipe, leaking fittings or joints and movement in the ground.
We look after over 27,500km of Water Mains across Wales and Parts of England – that's enough pipe to reach from Cardiff to Sydney and half way back again! And this doesn't include the communication pipes, or service pipes which supply your homes.
If there's a problem on our network, here's what you can expect of us
We aim to investigate and repair leaks as quickly as possible.
We know it's frustrating to have reported a leak and not see it repaired immediately, but there are generally very good reasons for why we haven't fixed it yet.
It isn't always straight forward, and several factors will influence how and when we can get it resolved.
The following steps outline what will happen once you have contacted us and how long it usually takes us to deal with most leaks; but please be aware that our timeline is for guidance and could be subject to amendment due to emergency work or environmental conditions.
How long it could take to fix the problem
Urgent leaks: within 2 hours (risk of flooding, health & safety hazard, affecting supply)
Significant leaks: within 24 hours
Less serious leaks: within 3 working days
Some of our water mains are large in diameter and/or operate at high pressures so the Health & Safety risks are carefully considered to ensure that we keep our teams safe.
We work closely with the Highways Departments to agree when work can take place.
Road Closures and Temporary Traffic controls can take longer to plan and agree.
We may need to order specialist fittings or equipment and other services may be affected where we will need to dig.
To maintain water supply for customers we may need to undertake temporary reconfiguration of the water network or use Tankers.
We will attend the site to carry out the repair.
Barriers will go up to ensure the safety of the public and our team.
If we cannot immediately fix the leak, we'll let you know what's happening.
Following the repair, we will reinstate the surface back to an acceptable standard.
Sometimes we need to give the ground a few days to dry out to ensure that reinstatements do not fail and prevent further disruption in the future.
If a specialist surface is required that will take a little longer to source, then a temporary solution may be applied in order to open up the highway for the interim.
If the surface we're reinstating is not tarmac or concrete, we will often complete this work even more quickly – sometimes the same day!
Testing if you have a water leak at home
We want to do everything we can to encourage our customers to detect and repair leaks as quickly as possible. This helps us to reduce leakage and for you to potentially save large amounts of money.
You may have a leak if you notice:
Areas of lush vegetation
A big drop in water pressure
A hissing noise near your internal stop tap
Damp patches on the ground
An unexplained change on your bill.
Find out how to test for a water leak here.
Leakage Responsibility
We own the pipes that run up to the street boundary and we will always repair them as quickly as possible.
Between the street boundary and your internal stop tap is the private supply pipe. Although the pipe belongs to the property owner we will offer a free repair where possible.
All internal pipework and fittings inside the property are the owner's responsibility to repair.
If you notice a leak or think you have one near your property, please contact us on 0800 052 0130 (24 hours a day, 7 days a week).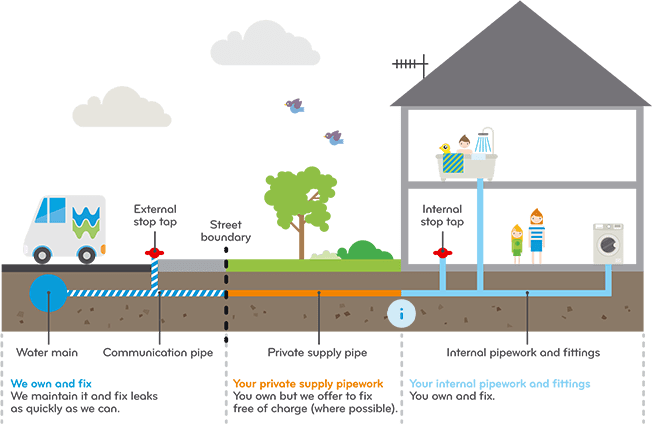 Sometimes a private water supply pipe can provide water to several properties, if we find your water pipe is shared we'll discuss all options on how to repair it with you when we visit. You may be interested in having your own separate water pipe installed, which we would always recommend.
A private supply pipe can be quite long and cross someone else's property boundary. If your supply pipe runs across your neighbours' boundaries then you are also responsible for this part of the pipe.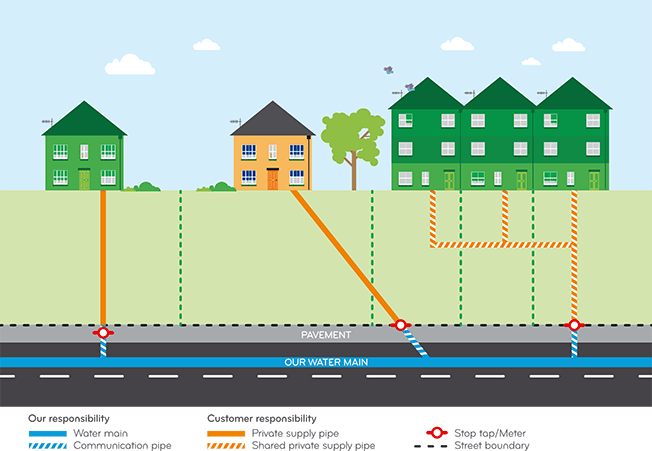 What to do if you have a private leak within your boundary
If you have a leak within your property boundary, or you're not sure who owns what, our Private Leakage booklet provides information on what you need to do, as well as details on our Free Leak Repair Scheme.
Download now
If your pipe has burst, don't panic.
Try to find where the burst is - and turn off the supply by turning the stop tap clockwise.
Open all taps to reduce flooding.
Soak up or block off escaping water with thick towels
Turn off your electrics: if the water is near anything electrical - including lights, sockets or appliances - don't touch them. Electrical wiring damaged by water can be very dangerous and you'll probably need to call a professional to repair damage.
Call a registered plumber - if you need help to repair a burst pipe, contact a Watersafe-assured plumber.