Your metered water bill explained
You may have received your new metered bill. See below to find out more about your bill and see the most frequently asked questions and answers.
Frequently asked questions about your bill
Bills have increased due to the rate of Inflation. This means the price of goods and services have gone up.
For us this means our prices have increased for materials and power costs needed to produce clean drinking water and treat wastewater. Price limits for all water companies in the UK are set by the industry regulator, Ofwat.
If you are having trouble affording your annual bill, please don't suffer in silence, we know life can be stressful and unpredictable and personal circumstances can change very quickly.
We may be able help you and offer financial support click here to find out more.
Household domestic customers are billed on a 6 monthly basis so twice a year your bill will be sent. Some commercial customers will have their bills more frequently due to amount of water they use.
At times we will estimate your meter readings, but we aim to read your meter at least once every year. Estimated readings are very accurate where we have previous company or customer reading. You will not always be able to read your own meter due to the meter lid that has been installed as specialist keys are needed and there is a risk to yourself so we would only ever ask for you to read your meter when it is safe to.
For help and advice take a look here.
A water meter cannot be removed if either: you are past the 2-year revoke period or you have moved into a metered property. You will find help on ways to pay and support we can provide here.
If you sign up for My Account, we will let you know when you are due to receive your bill and where safe to do so, you can read your meter and submit your reading online.
If you're unable to read your own meter, don't worry, our helpful meter readers will attempt to read your meter at least once a year and if you are not home, they'll leave a card with options that suit your needs. You will be billed every 6 months unless you are a business using considerably more water each month.
Unless you meet the thresholds of use to change the frequency of bills being sent you will continue to receive your bill on a 6-month basis. If you are struggling to pay your bills we are here to help (VCT info on tariffs) from setting up a Direct Debit which is the quickest, easiest way to budget and our support tariffs are available for those that meet the criteria.
Every customer uses water differently, this can be driven by the number of people in the household, whether you are at home more, if there are any medical needs that require more water and simply how efficient you are using water. We understand average use based on the size of a home and number of occupants but that will vary considerably with individual personal use.
Visit our page on water saving tips to help with reducing your overall charges.
Smart technology in the water sector is not yet as advanced as the gas and electric industries. This is due to the water infrastructure and sometimes simply where we need to install our meters.
We are actively working with our colleagues across the industry and have plans over the next 5 years to install more transmitting meters so that we can collect data more frequently, provide more data to you and enabling our meter readers to take readings in a walk by/drive by method
Your bills are based on the volume of water the meter records, including any water wasted or lost through leaks from your pipework. If the leak is our responsibility, once repaired, we'll remove any charges for the water lost as well as any related sewerage charges (if applicable).
If the leak is on your supply pipe and your responsibility to repair, if you carry out the repair within 30 days of the leak being identified, we'll grant a one-off allowance (in a 3 year period) to cover the cost of the water lost through the leak. There may be certain conditions that apply and we'll discuss these with the bill payer. If the leak was caused by your negligence or isn't fixed timely, no allowance will be given.
The responsibility of repairs of leak differ based on the leak location. We're normally responsible for all pipework to the boundary of the street where our water main is laid.
This means we'll repair any leaks on water mains, stop taps in the road or pavement or on any pipework between the water main and the boundary of the street, known as a communication pipe. If any leaks are identified on your private supply pipe (the pipe that connects onto our communication pipe and runs into your property) or any of your internal pipework or fittings, the leak is your responsibility to repair.
If you live in a house that is some distance from our water main, it's likely you'll have a very long supply pipe. Please remember, you're responsible for the entire length of the supply pipe from your house to the boundary of the street in which our main is laid (or to the main itself if our main isn't laid in the street), even though it may pass through other people's property. We recommend that you check that your household insurance policy covers all your pipework and fittings.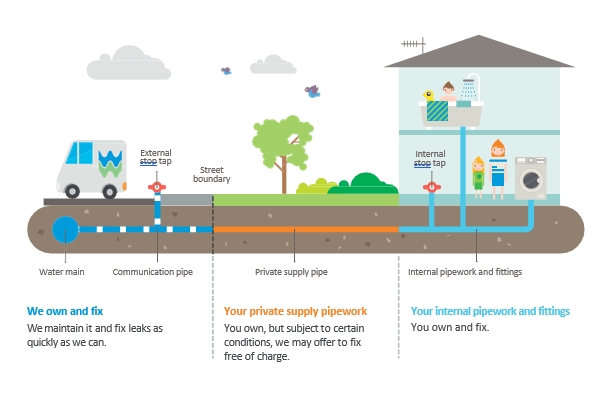 When carrying out any work, we try our best not to disrupt supplies. However, there are occasions when your supply may be interrupted due to us carrying out emergency work but this shouldn't impact the usage being recorded on your meter or your bill.